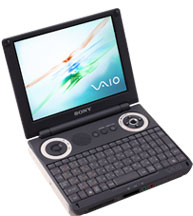 A friend in the US offered to send us some of our favorite Middle Eastern food if we'd go shopping for him. He wanted Sony's tiny laptop, the U101, which isn't sold outside Japan.
Well, as of Saturday, it isn't sold in Japan either.
Tod went to Bic Camera on Saturday afternoon, after he'd received the full shopping list of accessories (why buy a computer if you don't get a case, DVD drive and more memory!), but Bic Camera salespeople told him that Sony isn't making the U101 anymore and it's not available for sale.
On Sunday, checked kakaku.com, a website that shows prices all over Japan, then scoured Akihabara. No U101 at Yamagiwa (where he had seen it before), not at Llaox nor at any of a half dozen other stores. Finally he found one, the last one in all of Tokyo it seems, at a store so obscure that their shopping bags sport the name of a florist.
Tod definitely earned his finder's fee.