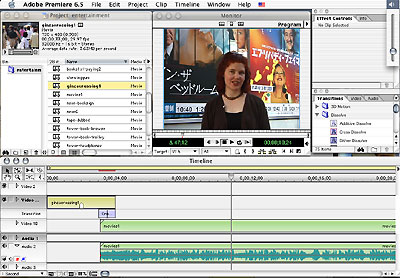 I've gotten work done on the entertainment section but not enough to show you. I need to do the voice overs but the circumstances were poor this week, even for sloppy ones. The destruction and construction are awfully noisy!
So instead, here's an image of my video editing environment. I use Premiere 6.5 on Mac OS X.
The entertainment section I'm working on now has 28 clips listed in the Project bin over on the left. To the right is the monitor where the video plays as I work with it. and to the right of that are some control panels for effects.
Down at the bottom is the most important section--the timeline. This is where I connect the clips, trim them, put them in order, add transitions, and get them just right. The yellow and pale green strips are the video clips in timeline and the powder blue box is a transition from one clip the other other. The jaggedy teal bit below is the audio waveform.
Editing is a lot of fun. I wish I had more time for it.