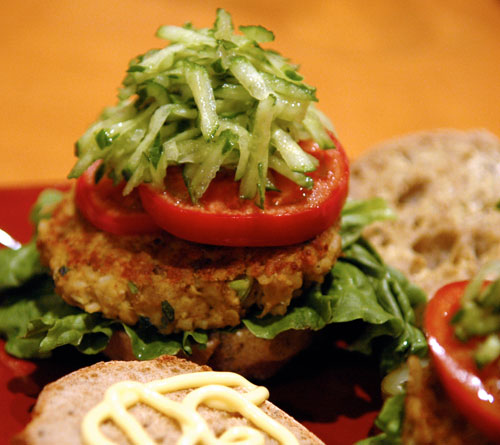 I always make too much mujadara to eat in one sitting but the rice and lentil dish is so delicious that it's never a problem. Tonight I turned some of yesterday's leftovers into patties. I drew on Heidi Swanson's "Ultimate Veggie Burger" for inspiration but mine is really nothing like hers, except for the lemon zest and cilantro.
Leftover hummus would be an ideal addition or could replace the chickpeas and tahini altogether. If you have some, experiment.
I baked up some buns to serve the patties on, using a variation of Seriously Good's Whole Wheat Buns. I omitted the butter and egg, and used water instead of milk, making these somewhat less rich but entirely vegan. The black pepper and garlic added a nice kick to compliment the veggie burgers.
Mujadara Veggie Burgers
makes 8-12 patties
1 can chickpeas, drained
1/4 cup tahini
3 cups mujadara (including the onions)
zest of one lemon
1/2 bunch cliantro leaves and stems, cut fine
4-5 scallions, cut fine
1 tsp salt
1/4 tsp turmeric
2 dashes ground cumin
Smush up the chickpeas until they are only slightly lumpy (by hand or in a food processor as you choose). Add the other ingredients and use your hands to squish it all together. Form into patties. Fry in a bit of olive oil for 6 minutes on a side, or until the patties are crispy and brown on both sides.
Serve on buns with greens, tomatoes and the sauces of your choice.
Cook's note: Although the flavor is great and the patties moist and tender, their structural integrity is a little bit too soft. I need to figure out a way to make them hold together better. Eggs would do the trick, but I want this to be vegan. Perhaps breadcrumbs or a different cooking method.