July 25, 2006
"Dead Wolf" pattern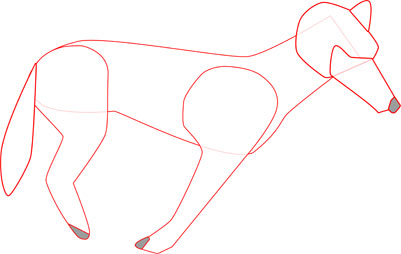 Ephrata Playhouse, where my mom's been doing community theatre for 20 years, is producing the gothic comedy The Mystery of Irma Vepp later this summer. So Mom called on me, creator of the life-like furry albino lobster pattern, to draft a pattern for a life-sized dead wolf to be dragged on stage in a hunting scene.
And here it is. I have not built this - only drafted the pattern and instructions - so I am certain some adjustments will be necessary in the sewing. My instructions are not extremely detailed. The wolf involves a fair amount of handsewing and a solid general knowledge of sewing. If you make the wolf and have any tips or suggestions, please leave a comment.
To aid realism, I studied the proportions, weighting and rigidity of dead wolves (through photos & scientific papers only; no animals were harmed in the creation of this pattern). The weight is added by stuffing the head, shoulder and hips with bags of rice, sawdust or beans. The legs are held stiff with dowel rods; the limitedly flexible spine is created with a series of interlocking plastic cups threaded together and tied off at tail and head. I recommend buying very long fake fur and giving your wolf a haircut when you've finished the construction.
Instructions (575KB PDF)
Pattern Pieces (1.2MB PDF) prints to 42 US Letter pages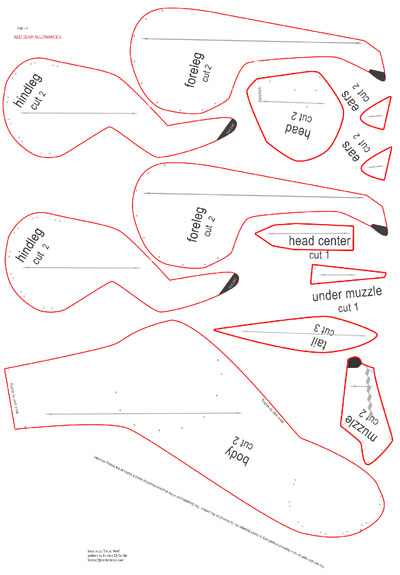 You'll need (approximately):
4-5 yards long plush fake fur
1 -2 yards muslin for constructing the bags
1/4 yard leatherette for nose and foot pads
1/2 yard rickrack or braided trim for eyes/mouth
15-25 pounds of rice, beans or sawdust
polyfil or chipped foam stuffing in great quantities
regular sewing thread
button or quilting thread
enough cups to make a ~50 inch stack
twine
Posted by kuri at July 25, 2006 09:47 AM