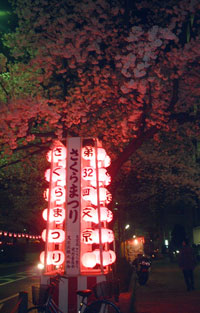 The cherry trees exploded into full bloom over the weekend. The city is absolutely gorgeous with pale pink flowers overhead. We went for a walk this evening under the trees near Myogadani. There were revelers picnicking with various levels of preparations. One family had obviously just been to the convenience store--their tarp was chock full of Pocky and potato chips. Another party of business suited salarymen had brought along folding tables and a barbecue grill. One of them was sauteeing onions in a pan.
Tomorrow. we're going out to party under the trees in Inokashira Park. We'll be taking along our "konro" gas burner and cooking up a stew, or maybe we'll take yakitori. I guess it will depend on what looks good at the grocery store tomorrow morning. The menu's not set yet, but I'm sure it will include plenty of beer and sake.
Right now, Kris is baking me a birthday cake for the party. John and Tod said they'd do it, but they are outside playing with the laser pointer instead. They got frustrated over measuring butter. Tod whipped out a calculator...a bigger production than necessary, I think.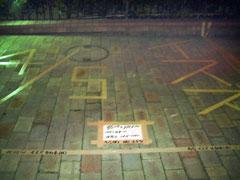 Anyway, back to the hanamiPeople pack in for their hanami parties, and it's a tradition for the junior members of a company to stake out a good spot and sit all day, wiating for their colleagues to show up after work. But along this street, there was another way to reserve--taping a message on the sidewalk.
Here, you can see that Isuzu (probably a company, but maybe a family) is holding this spot for Saturday the 5th. They've marked it out in letters a meter high--there's no missing it. And in case you do, they've left additional details marked in permanent ink on the border of the tape. Isuzu - 4/5- 12:00 ~ We know they are planning to start at noon and they have no plan to finish. I'm sure by the time 9 pm rolls around, they'll be falling over drunk and singing silly songs.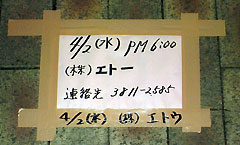 And here, in a close up, the Itou Company is reserving the same space for Wednesday night.
The entire 10 block length of prime space under the trees has already been divided up with similar duct taped boundaries and multiple signs bearing dates, times and company names. Regular people who hope to party under the trees are going to have to arrive early in the morning!
This system would definitely not work in the US. There would be ripped signs, carefully moved duct tape and fisticuffs. I wonder if there will be any confrontations here? I doubt it. Personally, I found the week-in-advance reservation of a space rather irritating. How dare they not follow the "first-come, first-served" rule? But maybe that's just me.
I hope we find space at the park tomorrow. I'd be very disappointed if the entire place was neatly divided into sections that had all been claimed.