Priming the Boards
The problem with being an apprentice to a man who has been dead for hundreds of years is that he's not here to watch over and give advice. I tried to prime the boards with the ground bone yesterday, but something's not right.
...take less than half a bean of bone, or even less. And stir this bone up with saliva. Spread it all over the panel with your fingers and before it gets dry, hold the little panel in your left hand and tap over the panel with the finger tip of your right hand until you see that it is quite dry. And it will get coated with bone as evenly in one place as another.
So there were my instructions. I decided a "bean" should be about the size of a fava bean since I know those are popular Italian beans. Half a fava is about a lima, I reckoned. So with a lima's worth of lamb bone, I worked up a good bit of spit and mixed.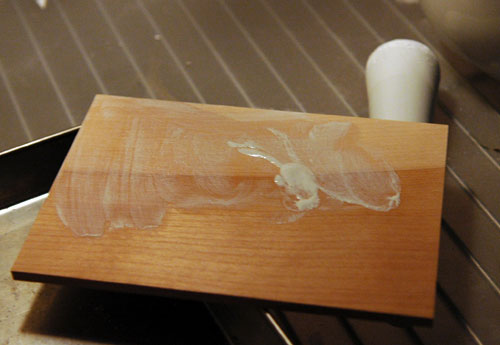 A splotchy smear of bone-and-spit
The mixture was uneven and difficult to apply smoothly. If I went over it twice with my fingers, it smeared around and left streaks. It seemed terribly transparent, too. By the time I'd gotten the board covered in bone, half a minute or so, the board was already semi-dry.
Holding it and tapping didn't seem to do anything, really. I tried holding it vertically and tapping on the surface with my finger. That succeeded in tapping fingerprints into the prime. I tried holding it horizontally and tapping the edge and bottom surfaces. That did make one largish crumble flake off and skitter over the board, but not exactly "evenly in one place as another." I wondered if he meant a motion more like greasing and flouring a cake pan, but that also didn't have much effect.
Daunted, I gave it a break and let it dry. The primer became more opaque, but it also felt sort of slippery and easily brushed off the surface of the sakura board, especially in the areas that were more thickly applied.
I gave the other two boards a coating of chicken bone mixture with not much more success.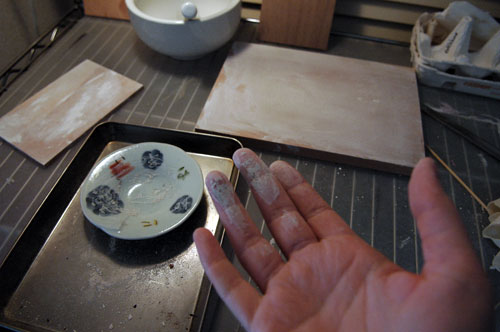 Drying boards and grungy fingers
The walnut board, which is the smoothest one, produced the most satisfactory but even it seems too transparent and fragile a surface to draw on. The two sakura boards are so uneven and lumpy that I will brush them down and try again. Maybe a second coat on top of a thin first coat will be an improvement.
It makes me wonder where I've gone wrong: wrong wood? Are the bones not calcined or ground correctly? Too much spit? Not enough? Is my 21st century saliva too different from Cennino's?
If he were here, he'd look at my mistakes, show me what to do, and I'd be on my merry way. As it is, I'll search for online resources on silverpoint drawing (for this is where the preparation of the little panel leads next) and hope that I twig to some great insight soon.