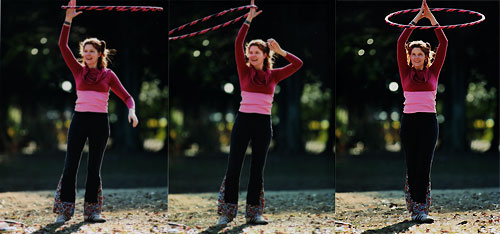 Me hooping. Photos by the gentlemanly goth-loli photographer at Yoyogi.
I am developing a love/hate relationship with the photographers and videographers in the park on Sunday while I am hooping.
Someone who asks permission or chats with me first is welcome to photograph or film. I might even take pains to turn in their direction or do a showy trick. I am extremely grateful when they e-mail me the pictures or give me prints, like the ones above. Last weekend, I was asked to hoop in a music video for the Intercontinental Music Lab. That was a fun experience - and as it turns out, one of the musicians is a friend of a friend that I'd met once before.
The passersby who pause and a snap a quick shot or two don't bug me at all, even when I notice them. I figure that I probably only see a quarter of them, anyway. I am busy hooping, after all, and there are a lot of people strolling through the park.
But I really don't like folks who stand and shoot for minutes on end without making contact with me. I notice them because they stick out as stationary in my whirling world. That disturbs my flow. And breaking my concentration pisses me off. So sometimes when it happens, I stop hooping and stare at them. Or wave. Or give them the finger. Or suggest they come try the hoops.
I need to learn to ignore them.