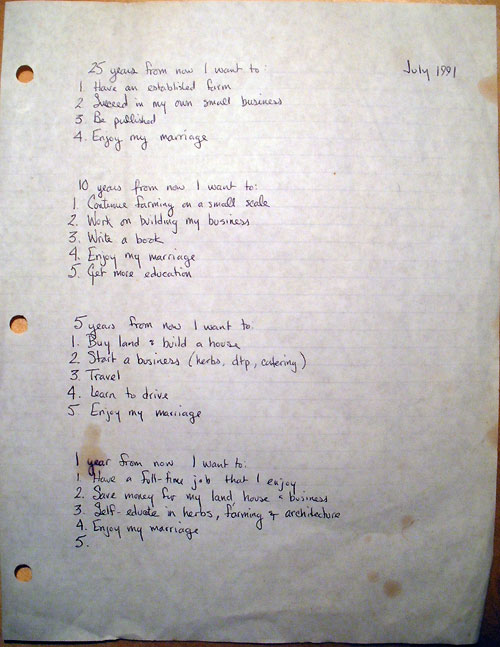 In 1991, at age 25 and two years into my marriage, I was soul searching and life planning. I recently unearthed a sheet of paper dated July 1991. Here is what I wanted to be doing in my future. I've noted the ones I ach
1 year from now I want to
1. Have a full-time job that I enjoy ✕
2. Save money for land, house & business ✓
3. Self-educate in herbs, farming & architecture ✕
4. Enjoy my marriage ✓
By July 1992 I still didn't have a job I loved, but I was on my way. Money was tight but getting better; we were saving a little. I was learning lots about herbs but more about the Internet (which would provide the good job and savings I wanted). My marriage was enjoyable.
5 years from now I want to
1. Buy land and build a house ✓
2. Start a business (herbs, DTP, catering) ✓
3. Travel ✓
4. Learn to drive ✓
5. Enjoy my marriage ✓
By July 1996, I had learned to drive, bought a house (though not a farm) then moved to Chicago. I had quit my job to work as a freelance writer, so I had a business (sort of). In July, I was packing my bags to go to Japan for the first time. That last goal was definitely a continuing success.
10 years from now I want to:
1. Continue farming on a small scale ✕
2. Work on building my business ✕
3. Write a book ✕
4. Enjoy my marriage ✓
5. Get more education ✓
By July 2001 I had no farm, no book and my main education was Japan's culture and language, though I had started and abandoned a grad program in 1997. Small business ownership was no longer interesting to me, though I was about to embark on a hodgepodge non-business of tinkering. Loving the marriage.
25 years from now I want to:
1. Have an established farm
2. Succeed in my own small business
3. Be published
4. Enjoy my marriage
These goals are for review in 2016 - 7 years from now. Although I'd still love to have a small farm, I don't know if that is going to happen. I've put business by the wayside in favor of doing whatever comes my way. That suits me well. Published = a lot of work, but it is still a desire and a possibility. Enjoying my marriage another 7 years doesn't seem like a stretch.