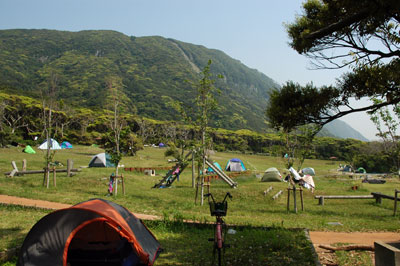 Across the site
Niijima has a well-designed campground. The toilets are clean; there is a large communal area with sinks and barbecues; and each site is neatly flattened out for tents and delineated with wood fences.
And as a bonus--there is no cell phone reception. You cannot help but relax here.
Not to mention that the air is clean, you can hear crashing waves, and there are lots of stars in the night sky. It's a heavenly place to chill out and enjoy nature.
Although it took us 20 hours to get there (our boat was canceled and we had to wait all day for the next one), it was worth the wait.