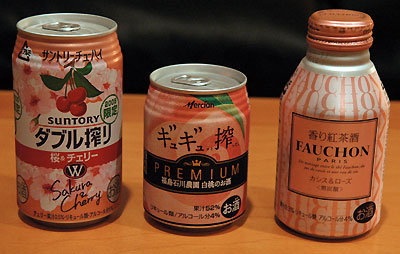 Ready for a a taste test
Suntory Double Shibori, Sakura & Cherry
Poured out a fizzy pale pink. The bouquet is nice. Not too sweet, but has a slightly medicinal aftertaste. Just the thing to cut the salt of senbei at hanami. 0.5% cherry juice; 5% alcohol.
Mercian GyuGyu Shibo Premium, White Peach
Translucent clouds of palest yellow. Fresh peach scent and juicy flavor. Slight carbonation cuts the cloying sweetness. A good starter drink for toddlers. 52% juice, 4% alcohol.
Fauchon Scented Tea Sake, Cassis & Rose
Pinkish brown tea, non-carbonated. Smells like roses. Tastes like tea brewed too strong then sweetened with cassis. Tod says it's "too girly." 0.3% juice, 4% alcohol.