We went out to Narita today to collect our mothers. We arrived shortly after their flight landed and headed to the meeting point outside Customs. An hour later, everyone else from their flight had come through. We started to worry.
"Maybe one of them fell ill on the plane and they went to the infirmary," I mused.
"Or they tried to smuggle something in..."
"Maybe your mother brought a plant," I laughed, remembering the Christmas that Jean mailed me narcissus in contravention of all known laws.
I scoured the arrivals area--they weren't in the smoking room, or near the currency exchange, or sitting on the benches. They were nowhere to be found. Eventually I was worried enough to call MJ to calm me down. Then I had them paged.
But when they didn't appear at the information counter after a few minutes, I walked back over to Tod. "You know," I began with the light of an idea beginning to dawn, "my dad left a cryptic comment on my weblog this morning. He said the flight was an hour late. But I checked and it wasn't late. Could he have meant they took a later flight?"
Sure enough, they arrived on the next flight from Chicago--an hour later than the first one. What a relief!
The Okaasan-tachi Tour begins tomorrow as soon as my mother's delayed suitcase is delivered.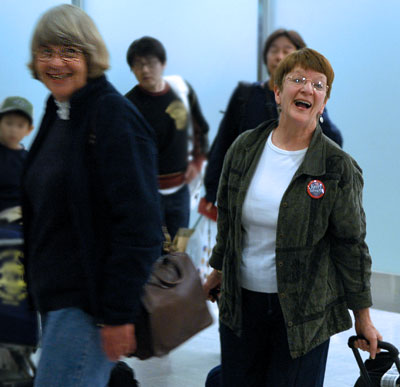 Welcome to Japan!