June 26, 2003
CEATEC poster girl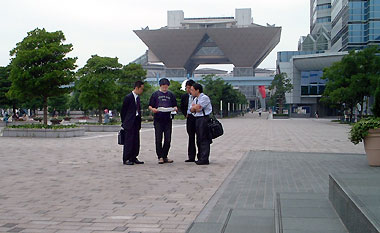 CEATEC is an electronics show that will be held in October. Last week UltraBob, who is working on the CEATEC website, asked the JapanBloggers mailing list for two volunteers to model in a photo shoot for the CEATEC poster.
I caught him on chat and gave him a hard time about asking the Bloggers to model. We're really just a bunch of normal people, not the Beautiful People. Apparently I was the first female to mention it at all and he talked me into doing it. Hmmmm. I'm a little old to be a model, but sure. Experience points.
So this morning, I headed out to Ariake for the shoot. I caught a glimpse of the mock up—a lot of product shots collaged together. Some of the photos had people in them.
But if there is any shot with my face in it, I will be surprised. Maybe the art director agreed with my self assessment of 'aged model.' I believe I have a hand, shoulder, and unkempt hair in one shot, a blurry torso in another, maybe a hand playing with the car navi in another. Seth, the other model and also a Japan Blogger, was more prominently featured—he faces the camera and is even talking on a cell phone in one shot.
Since the focus was on the gear and not on us, the photographer's assistant carefully dusted and polished every bit of equipment that was photographed, but Seth and I didn't even get a glance. No instructions to comb our hair or adjust collars. It was a little bit strange, to be honest. When I photograph people, even when they aren't the primary subject, I do fuss with them a little bit…
Mostly Seth and I waited around and talked about tattoos, writing and the lack of good bagels in Tokyo. It was interesting to be on the other side of the camera, but as I am reminded every time I venture there, I really do prefer being behind the scenes.
Posted by kuri at June 26, 2003 12:42 PM