February 20, 2008
Kristen's Project Runway
My sister is marrying later this year and she has asked me to pattern her dress. Even though I am more likely to be making patterns for furry lobsters and dead wolves, I agreed to pull out my dormant costuming skills and do my best.
Jenn is very elegant and wants a dress that is simple, smooth and sexy. She sent me a design sketch
along with some photos of dresses whose details she liked. This is very Jenn and it will look great on her. She is hoping to have it in red silk dupioni.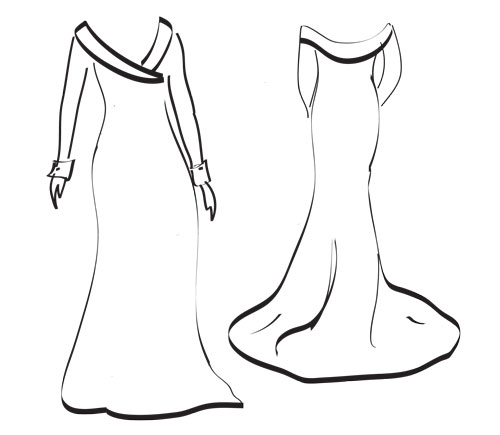 So having a few moments today, I started really thinking about the dress she drew and how it could be constructed. I spent hours poring over fashion photos, patterns and sewing techniques. Nothing out there is quite like this dress so I can't cheat and buy two commercial patterns and combine them. This is going to be a challenge!
On first view of the sketch, I suggested a two-piece construction to Jenn. The line isn't as smooth when you have a separate bodice and skirt but it is easier to mix the skirt and top styles and also allows more versatility in wearing the pieces again. She's agreed and I will follow that course, since it will make the pattern and construction possible for a novice like me. I do not have to work in the fashion fabric. My mother's seamstress friend, Phyllis, will make up the final dress, but I will need to sew a muslin to make sure the design works.
The skirt will be simple enough. I have some choices to make about how to piece the fabric to form the train, but overall, this is pretty basic. I am not sure it is going to drape in the silk dupioni that way Jenn's sketch shows. Dupioni is a bit crunchy and it doesn't stretch at all. I will definitely have to piece the skirt carefully to give Jenn a smooth fit over her hips and also enough ease to sit and walk. I need to find out more about her desired train length, too.
The bodice is going to be more difficult than the skirt.
There is no fastening shown in Jenn's drawing. The natural thought is to wrap the whole bodice in line with the collar, so the bodice is double thickness in the front, and close it using hooks or buttons on the inside side and on the outside a button that matches the ones on the cuffs. Or perhaps a side zipper can work; I need to think about how to insert a zipper into a wrapped, long sleeved garment.
Regardless of which way I close it, I think I have to make Jenn wear it wrapped left over right. Right over left is how Japanese kimono are worn in death and I really don't want to inflict any possible bad karma on my sister's new marriage.
The off-the-shoulder neckline is very wide in Jenn's sketch. In fact, it is wider in the back than the front. In the front version of the drawing, the bottom of the collar hits the top of the shoulder. In the back view, the top of the collar hits the top of the shoulder. That is going to need some adjustment to prevent wardrobe malfunction. I think the front view is how I will proceed. It will still be open and elegant, but not likely to fall off. The backline will come up a bit but the wedding is in the autumn, so that extra inch of coverage could prevent frostbite.
The back of the bodice will have to be darted to fit properly and I need to think about where it should break - just below the waist? A little lower? If I take it as far down as the hip, it will look too much like a jacket (although a strapless or sleeveless dress with a very short wrapped jacket is not a bad idea). I will try to keep the seam lines in accord with the skirt piecing, so the look is - I was going to say seamless, but that is so wrong - flowing smoothly down her back.
Cuffs are fun and Jenn hasn't given me quite enough direction here. I need to find out more about the size and shape she is hoping for. Otherwise I am giving her pirate cuffs, matey.
So with all that to think about, here is the sketch I have done up, based on Jenn's original one. Please ignore the irregularities - the sleeves are different lengths and I don't have Jenn's measurements, so I think I have given her extra stubby legs (or maybe a hyper extended torso). I hope you get the idea despite my poor ability at realistic drawing.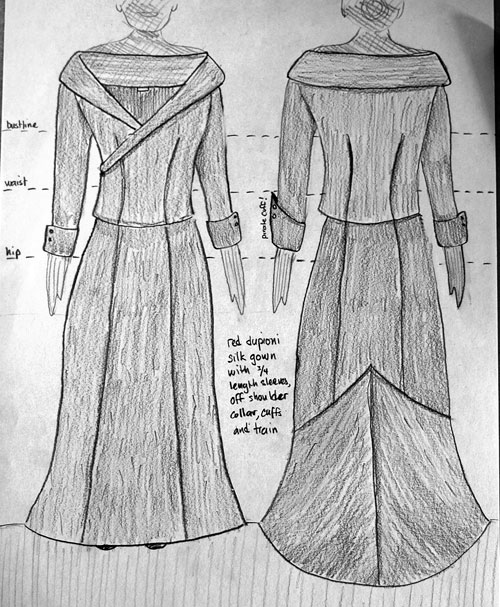 No doubt there will be further reports on the progress of the dress design and patterning. Stay tuned.
Posted by kuri at February 20, 2008 02:16 PM