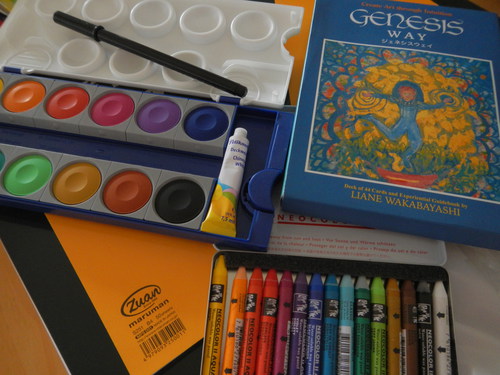 I've been enjoying Liane Wakabayashi's intuitive art classes for several years and when she invited me to join the first Genesis Art Teacher Training, I jumped at the chance to learn how I might be able to use this as a quiet creative activity with my social circus work.
Genesis Art
uses a beautiful deck of cards with paintings and titles created by Liane. During a session, students work on one of many exercises to produce a drawing, painting, or collage. During the creation process, if the student feels "stuck" or at a comfortable stopping place, it is time to compare the work to a card drawn at random. What are the connections and similarities? Where are there differences? Does the card's colors, composition, figures, symbolism, or title give inspiration to adjust the drawing? At the end of the session, students gather with their drawings and cards to talk about the experience. The cards and artwork are a gateway for discussion of topics that we often slide past without much depth.
It was a great two days. Seeing the tools and techniques from the teachers point of view was eye opening. I think my own use of the cards and the exercises will change as a result. There are many ways I can apply these ideas in my work and I'm excited to explore more with Liane's techniques.