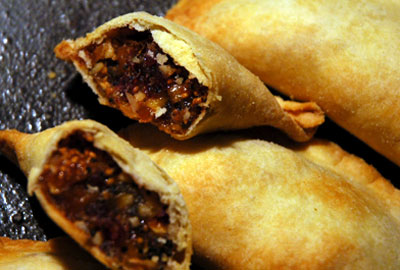 Karanjee pastries smell like India's sweet shops
I noted down this recipe from Sanjeev Kapoor's "Quick Cook" column in the November 16th issue of Gomantak Times as I sat reading it at breakfast in Panaji, Goa. Half moon shaped pastries filled with cardamom spiced dried fruit and nuts seemed like a perfect holiday baking project.
The pastry is crisp and thin. The filling is sweet but without any sugar - all the fructose goodness from the dates. It's a heavenly combination of flavor and texture.
The recipe calls for ghee, which you can buy easily in India, of course. If you don't have ghee handy, make your own by melting butter and cooking until the solids separate. Then skim the white foam, or strain through cheese cloth. The golden yellow liquid is ghee. It's semi-liquid at room temperature (like butter left out in the summer) and solid when chilled.
Date and Anjeer Baked Karanjee
makes 12
Pastry
1 cup white flour
2 Tbsp semolina flour
2 Tbsp ghee
1/4 cup milk
Combine ingredients for dough. Divide into 12 parts, roll into circles on semolina-dusted surface. Allow to rest while you make filling.
Filling
3/4 cup finely chopped dates
3/4 cup finely chopped dried figs
15-20 cashews, crushed
15-20 pistachios, crushed
1 tsp green cardamom powder
1 Tbsp roasted poppy seeds (white is better, but black's ok)
2Tbsp milk
2 Tbsp ghee, melted
Chop and crush as necessary, then combine the filling ingredients and mix thoroughly.
Fill each circle with a heaping tablespoon of fruit mixture, fold in half and pinch edges shut. Brush with ghee and bake at 180C/350F for 20-25 minutes.