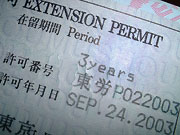 Any foreigner who's lived here a while knows the nail-biting tension of having a visa renewed. We are all here by the good grace of the Japanese government and once every three years we must submit ourselves for inspection and a new seal of approval. Yoroshiku onegaishimasu!
So what's it like?
After collecting reference letters, employment contracts, tax documents, marriage certificates, and university diplomas, a trip to the Immigration office and several thousand yen worth of revenue stamps get the application in the queue. It vanishes into the fog of Japanese bureaucracy.
There is no way of knowing what is going on behind the scenes; only a sketch of the rules is written down for applicants. Do they check all those letters and contracts? Do they consider you by nationality, income, criminal record, age, or some sort of karmic merit system?
Who knows?
We sailed through the process this time. Whatever mysterious tests were applied to us, we passed. Our visa applications were filed on September 10 and we received the renewals yesterday. We've been granted another three years' stay in Japan. Our life continues, uninterrupted by any immediate international moves.