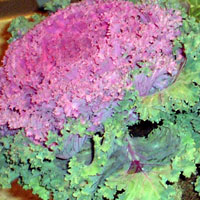 There's not much doing in Japan for Halloween, which suits me just fine. When I was a kid, I trick-or-treated mainly at houses where I knew the families; I loved creating my costume and the sugar buzz was nice, but the actual trick or treating wasn't all that thrilling.
Tod & I used to deliberately go out to dinner on Halloween to avoid the begging children back when we were in the States. All sorts of strange monsters appeared at our door--and I know there weren't that many kids in our neighborhood.
So tonight, in a similar spirit but uninterrupted by greedy rugrats, we had a nice dinner and I made Tod hunt for his trick-or-treat surprise. It was a pot of ornamental cabbages on the veranda. He's comments on ornamental cabbages (and dogwood trees) every time he sees them, so I figured he might like to have some of his own.
For our treat, we'll be sipping on hot cocoa in a few minutes.
(Thanks to Eric Bishop of Weston, PA, for amending my blackboard to read "Crappy Shalloweener" at a Halloween party circa 1982. That phrase is in my annual holiday vocabulary right alongside "bah, humbug." Love you, Eric!)