Ikebukuro
4 Boxes, 50 kg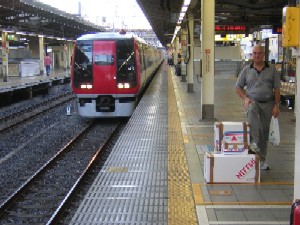 How do you get 4 boxes totalling 50kg from Ikebukuro to Narita?
I had to move these 4 boxes from my hotel in Ikebukuro via the Narita Express to the airport. Unfortunately, there were 4 of them and only 1 of me. It was great fun scaling many many sets of escalators and stairs using a method related to "how do you get 3 sheep and 1 wolf to the other side of the river, using a small boat for two".
I did manage though, even if I almost died in the process. It was especially interesting when I put them on an escalator, 1 box every 3 steps, then ran past them to receive them again at the top before they all piled up!

Contributor: Ferit Orbay
Date: September 2003

Posted on 2004年09月04日 10:23