Hello Tokyo
Hello Tokyo Tips
Practical hints on settling in and enjoying life in Tokyo.
view all Hello Tokyo tips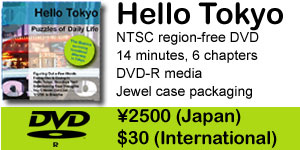 Puzzles of Daily Life
Life can be confusing as a functional illiterate; let me help you figure things out fast. Puzzles of Daily Life is a 14 minute video shot on location in train stations, shops, and on the streets--the perfect thing to give you a glimpse of sights and sounds of real-life Tokyo.
Clips from Hello Tokyo
In less than 15 minutes, you'll discover how to:
summon a waiter
apologise for running into someone
say a simple thank you
choose and use a phrasebook
deciper Italian, French, other western menus
take advantage of plastic food displays
prepare quick meals with instant food and deli items
read 6 key kanji on food packages
save money by buying Japanese goods
puzzle out cleaning products
shop for American and European foods
satisfy your midnight-snack cravings
pay your utility bills
combine shopping and entertainment at a 100 yen store
see four movies for the price of 1
tell whether a movie is subtitled or dubbed in Japanese
find English language books and magazines
love your train station
buy a train or subway ticket
use a Passnet card to transfer from subways to trains
what to do when the wicket chimes
read a Tokyo address
...and more
Order Hello Tokyo
Region-free NTSC DVD-R media* in jewel case packaging. Prices include shipping via regular mail and tax.
To order the DVD in a tall case or to place large orders for resale, please e-mail kristen@mediatinker.com for more information. *DVD-R media may not work in all players; please consult your owner's manual.

Appearances & Media
Design Festa vol 18 interview
Design Festa 18 video interview
---
Tokyo Visitor's Survival Guide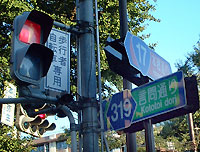 Just visiting? Here's some general information on how to navigate Tokyo's restaurants and attractions.
getting from here to there
buying tickets
shoes and other mysteries
eating out
Kristen's favorite attractions
surviving illiteracy

Interesting places to visit in Tokyo.
---
Hello Tokyo Resources
Indispensible Phrases


Restaurants and Food


Shopping


Entertainment


Getting Around


Credits