Travel
December 09, 2008
A very hoopy trip

Hooping in Washington Dulles airport
My two weeks in the States had hooping as a subtext. In between moving, Thanksgiving, wedding, set decoration, and banking I spread the hoop love as thickly as I could.
In Pittsburgh, Jean swept snow off the patio so we could hoop. She liked it and we found a hoop class not too far from her. Cousin Goldie, who I discovered is a certified NIA dance instructor, hooped it up in the living room with me. I didn't have hoops to leave behind there, but I hope I planted a seed of desire.
At Jenn's we decorated hoops that I'd had delivered from Betty Hoops. We had ten naked hoops and a box of fabric and tape. Our different personalities really came out. Mom's hoop was neatly and beautifully cross taped in sky blue and yellow. Helen patiently patchworked a hoop with all different fabrics and shiny tapes. I did two hoops with different designs. Jenn used purple fabric and pink tape on one of hers, and attempted a candy cane spiral on the other but ended up with a zebra striped hoop instead. I snagged a third hoop to decorate later and left the remaining three for them to decorate and enjoy.

Jenn & Helen learned to hoop in time to work off their Thanksgiving dinner.
Jenn's living room is just big enough for two to hoop carefully, or if three people line up just right, we can all do vertical hand hooping. The day before the wedding, Jenn & I bundled up and hooped in the backyard as the sun set. I clocked myself good on the side of my nose and had this funny red square on my face for the rest of the trip.
We took the hoops by car to Mom's house in Ephrata. Hoops are not so car-friendly, especially with luggage involved. They sort of fit in the back of Mom's station wagon, did not fit in the town car we rode in to the airport (Tod sat with them around his neck), did fit into the capacious trunk of a Volkswagen Jetta, and did not get anywhere near fitting into the trunk of a Tokyo taxi (I sat with them over my legs).
I'd hoped to meet up with some Harrisburg-area hoopers while I was in Ephrata, but I was conscripted/volunteered to help at the theatre and there was no time for hooping.

Kris & I show off our hoop matierials.
When I got to Chicago, I gave Kris one of the hoops I'd done at Jenn's and we played indoors and outdoors. When I suggested we could make more of them, we ran around town for hoop-making supplies. 3/4" 160 psi polyethylene tubing is available in Chicago, but not common.
I called in an order to Grainger, a B-to-B wholesaler who kindly accommodated my needs, and we were the only women in line at the warehouse will-call window. The guys at Home Depot were interested in our project, too. I wonder if they checked out the YouTube link I suggested?

Shiny, pretty hoops in progress

The FoxCam captures winter hooping action
I came home with four new hoops, 75 feet of tubing and a ratcheting pipe cutter, too. For the record, hoops travel well by air when tied into a bundle and wrapped with bubble wrap.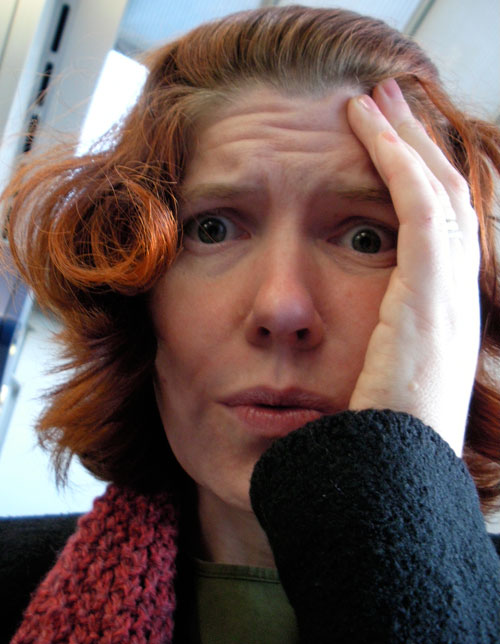 "Oh, no! I left the travel hoop in the car!" I remembered at O'Hare
Sorry, Tracey. I will be buying you a new travel hoop in the very near future.
December 03, 2008
July 23, 2008
July 22, 2008
July 21, 2008
July 18, 2008
July 17, 2008
July 12, 2008
July 11, 2008
July 09, 2008
July 08, 2008
July 03, 2008
December 03, 2007
December 01, 2007
November 30, 2007
November 22, 2007
November 19, 2007
November 17, 2007
November 15, 2007
November 19, 2006
November 08, 2006
November 07, 2006
November 06, 2006
November 05, 2006
November 04, 2006
November 03, 2006
November 02, 2006
November 01, 2006
October 30, 2006
August 05, 2006
July 29, 2006
May 14, 2006
May 12, 2006
May 11, 2006
May 10, 2006
May 09, 2006
May 08, 2006
May 07, 2006
January 17, 2006
January 15, 2006
January 09, 2006
January 07, 2006
January 03, 2006
December 30, 2005
December 23, 2005
December 20, 2005
December 19, 2005
December 17, 2005
November 02, 2005
October 19, 2005
October 17, 2005
October 16, 2005
October 15, 2005
October 14, 2005
October 13, 2005
October 12, 2005
October 11, 2005
September 11, 2005
August 20, 2005
August 12, 2005
August 10, 2005
August 01, 2005
July 18, 2005
February 16, 2005
February 15, 2005
February 14, 2005
February 13, 2005
February 12, 2005
December 13, 2004
December 10, 2004
December 09, 2004
December 04, 2004
February 28, 2004
January 07, 2004
October 20, 2003
October 19, 2003
October 18, 2003
October 17, 2003
October 16, 2003
October 15, 2003
October 14, 2003
October 13, 2003
October 12, 2003
October 11, 2003
October 06, 2003
June 08, 2003
February 19, 2003
February 16, 2003
February 15, 2003
February 12, 2003
February 08, 2003
October 21, 2002
October 20, 2002
October 12, 2002
August 08, 2002
May 25, 2002
April 15, 2002
April 14, 2002
April 06, 2002
March 17, 2001
March 16, 2001
March 15, 2001
October 14, 2000
October 11, 2000
October 08, 2000
October 06, 2000