December 07, 2005
Ulysses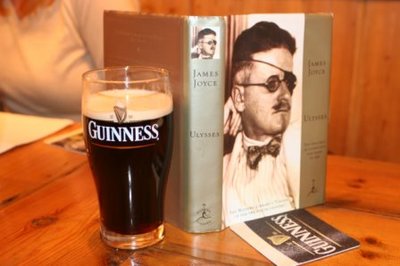 What happens when seven people get together to read a section of Ulysses in a bar in Tokyo?
Hilarity ensues. We changed tables twice trying to find a quiet place away from the irritating 80s pop background music but failed. We ordered lots of beer, we rattled the microphone, we (ok, I) tripped over words while reading. But it was such fun that we'll likely do it again.
Here's what we recorded, warts, Bangles, and all:

Ulysses "section 4" 43'25" MP3 (40 MB) Read by David, Kasuemin, Susan, Robin, Tod, me, & Jeremy.
Syd, our official photographer, noticed a poster on the wall at our table—Learn English in Ireland—with a collage of images including a picture of Joyce and the cover of Ulysses. Providence.
If you want to learn more about why we were doing this or if you want to play, too, visit LibriVox and specifically the Ulysses thread in the forums.
Posted by kuri at December 07, 2005 11:55 PM