December 22, 2004
Dizzy in Ginza
Eight and a half years ago, when Tod & I first visited Japan, we saw a building in Ginza with an unusual round upper story. "Is that thing revolving?" we wondered.
Fast forward to this evening. Answer: yes, it is revolving.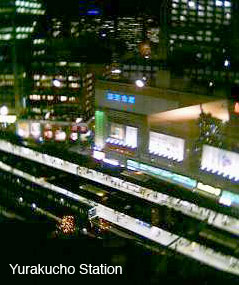 The Tokyo Kotsu Kaikan is home to one of Tokyo's three revolving restaurants, the Ginza Sky Lounge. (The others are at the New Otani in Akasaka and the Hotel New Tsukamoto in Makuhari, which is really in Chiba but close enough to count.)
The Sky Lounge serves French food and a 360 degree view every 40 minutes or so. We didn't take good timings, though we went around about 4 times while we were eating. We were having entirely too much fun pointing out the sights to remember to note the time and relative position.
"Oh, there's the Rainbow Bridge, peeking out between the skyscrapers."
"Look at how the tracks into Tokyo Station make a sinuous path."
"Are those red and blue elevator lights on the Dentsu Building?"
"I've never see the yellow flashing lights on the highway before."
Perhaps it was silly to be so delighted, but I was smiling all through dinner. It's highly agreeable to sit still and watch the scenery change.
I especially liked the gorgeous reflections on the Mullion building of the passing trains and people waiting on the Yurakucho platform.
Let's go there for lunch someday.
Posted by kuri at December 22, 2004 11:13 PM