September 11, 2004
House for Sale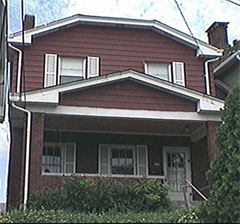 Looking for a property in Pittsburgh, PA? We're selling our lovely 1920s Mt. Washington bungalow on Winton Street. I adore this house, but know we'll likely never move back to Pittsburgh, so it's time to sell.
Brick and wood frame. 1470 sq ft. 3 bedrooms, 1 bath, walk-in closet, finished attic, antique gas fireplace, privacy fenced back yard, full basement. First floor interior was redesigned by local architect to create an airy, open greatroom with wood floors and views straight through to the back.
New shingle roof in 1996; new gas furnace in 1996; new bath unit in 2004.
Very convenient commute to downtown. The house is within walking distance of South Hills Junction (T and busway) and the local bus stop is only 2 blocks away. There is a grocery store, restaurants and other useful amenities a short walk away. Easy access to supermarkets and shopping malls by car.
All the assessment details are available at the Allegheny County website.
For a tour or more information, please contact Collyer Realty, 308 Boggs Avenue, Pittsburgh, PA 15211 (412) 431-0500
Posted by kuri at September 11, 2004 11:45 PM