July 26, 2003
Title Sequence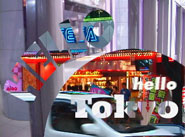 At long last, another edition of Video Saturday.
This time, I've got the title sequence. The plan with Hello Tokyo is that it will be a series of videos on different aspects of life in Japan so this sequence will be reused in several videos. Getting the right pace and tone was important and not a little intimidating. But I'm very happy with the results.
The music is composed by Jeff, a Tokyo-based musician and producer, especially for Hello Tokyo. I love the bouncy guitar—the tune gets somewhat more complex as the piece goes on and I'll feature sections of as the video progresses.
Now that I have the title done, I can rethink the look of the rest of the video. I hope to incorporate the circles into section transitions and make the whole thing fresher and more fun.
Go on, take a peek…

Hello Tokyo title sequence. 0'46" (4.8 MB MP4)
Posted by kuri at July 26, 2003 07:00 AM