December 07, 2010
Prague Stories
I wanted to take our vacation in Poland, but there's no direct flight to Krakow, so we went to Prague on the way. As all travelers do, we came away with our own set of stories and memories. Here are some of them.
The Boiler Upgrade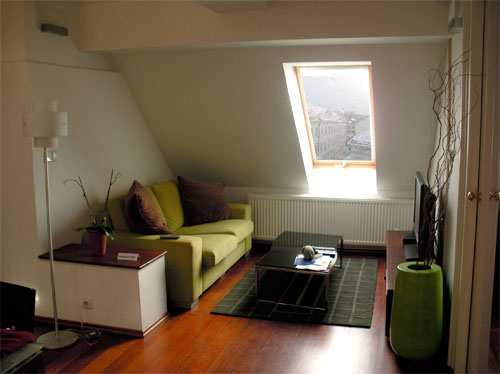 Karoline 54, our second home in Prague
For our first few nights in Prague, I rented us an apartment through Prague City Apartments. I found one, the Masna, that was near the main square and close to a supermarket. It was reasonably priced, too. We arrived late at night on the 6th and it looked great. Comfy bed, a TV, nice view over some city roofs. We had a kitchen with the necessary appliances and dishes. Perfect for our needs except that the hot water ran out after Tod's shower the first morning. Well, lesson learned - shorter showers and I'd go first the next time!
After a day of sightseeing and provisioning, we popped back to the apartment to drop our purchases and have a cup of tea before dinner. It was chilly. We turned up the heat a little but it never warmed up. After a while, we realised the boiler wasn't working. Tod ran upstairs to the next floor to use the hotline phone to the agent. It was broken, as was the Internet. Well! Adventure time. We bundled up and walked across town to the agent office to report our problem. It was really cold and snowy!
The receptionists on duty, two university students doing graduate studies, were sweet. We explained what had happened and they made us coffee and we sat and chatted while the technician, Vashek, came over. They were surprised we weren't angry, but why be angry? It's not like they broke the boiler on purpose. We knew it would get sorted out one way or another. They suggested that if the boiler could not be fixed, they could move us to another apartment - except in Masna all the apartments were getting boiler upgrades so we'd have to go to another building - a nicer one. I sort of hoped we'd be able to stay at Masna, because the location was so perfect.
Vashek arrived and drove us over to Masna, where he checked the boiler. No luck. We didn't know it then, but they'd conversed among themselves and decided to upgrade us regardless of the boiler. So we packed up our things and moved house to Karoline across town. The new apartment was much nicer, in fact; a stylish 1 bedroom apartment instead of a slightly frumpy studio. And the location was different but just as good. We were happy to have this as out home base for the rest of our stay.
Vashek and the Olives
On his way out of our new location, after checking all of the heating, water and appliances, Vashek offered to get together with us if we had time. "Let's have a beer or something," he said. Sounded OK to us. Vashek is an enthusiastic 25 year old with a degree in engineering and lots of dreams and ideas. He'd just started work at the apartment company a few days before we arrived.
We did meet up with him two nights later for dinner and a beer. It was a delightful night. He was so full of stories and told them with wonderful gestures and expressions, including this one about the first time his family had olives, about five years ago:
It was Christmas and we wanted to try something new. So my mother bought olives - green ones and black ones. We were excited to taste them, but when we opened the tin of green olives, they smelled really bad. "These must be gone off," my dad said. My sister looked at them. We emptied them into a bowl and bravely tried them. They tasted like gasoline! They were terrible. We decided they were not healthy and they must be very dangerous to eat. So we covered the bowl and put it in the refrigerator.

A few days later, the bowl was empty. My mother admitted that she had eaten them. "I tried another one and it was still tasting strange, but then I got to like them and wanted more. So I ate them," she told us.

After that, my father learned to eat them, and then my sister and then finally me. Now we love olives.
The tale isn't the same without Vashek's funny faces and storytelling skills, but I think it is interesting that a middle class Czech family had never encountered olives until 2005. They were rather limited under communism until 1989.
Snow and Cold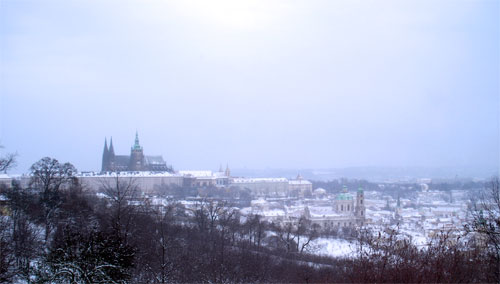 Prague Castle from the funicular
Prague doesn't normally get a lot of snow, except for the week we visited. The city was blanketed then slush-covered and icy. Our first day there, Tod bought waterproof boots at Bata and then stomped through puddles while I picked my way through the slush in my Doc Martens.
It was amusing to remember that it had been 23C in Tokyo the previous week. the evening we arrived in Prague, it was -9C. Some days it warmed up enough to melt the snow and slush a bit, but most days were simply freezing cold and windy.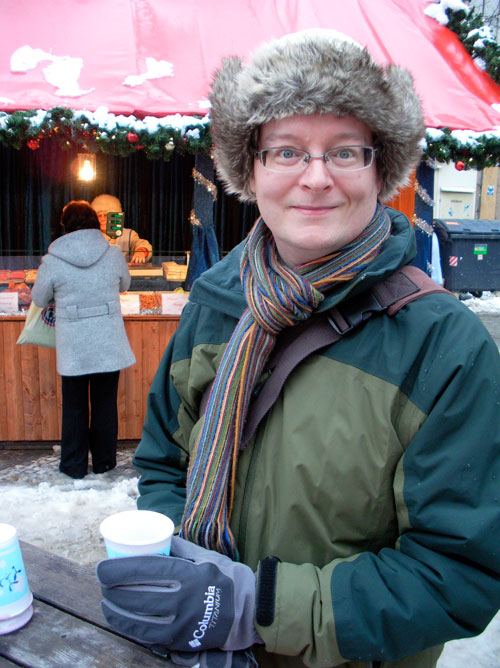 Tod warming up with hot wine at the Wenceslas Square Christmas market.
It was delightful to be in the cold and it gave us lots of excuses to get inside for a cuppa or to grab a warm drink at the outdoor markets. Yay for mulled wine!
St. Vitus Cathedral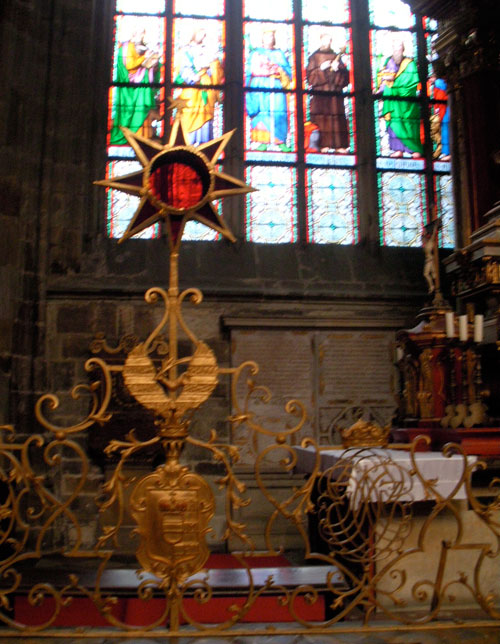 Gates and glass at St. Vitus
One of the ways we got out of the cold, though not by much, was visiting Prague Castle and the beautiful cathedral there. It was not heated, but it wasn't windy!
St. Vitus Cathedral is huge and we enjoyed walking around the periphery, looking at the gilded carved wooden gates and all the sainted class in the chapels. It was a testament to the power of the Church to hire skilled and talented craftsmen and artists.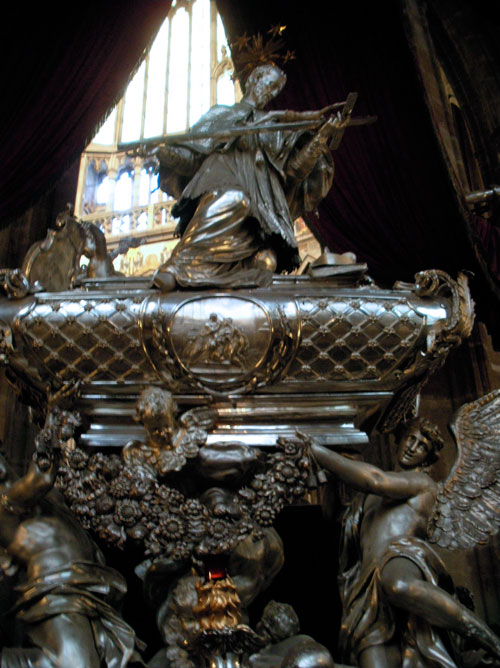 This is not as small as it looks…
As you round the top end of the church, there is an enormous silver sarcophagus. It is over-the-top gaudy with cherubs and garlands and even a bas relief of the silver miners who contributed to its creation. It is the resting place of St. John of Nepomuk, and he stands atop it much larger than life and cradling a tiny Jesus on the cross. This man must have been a giant in real life. Or had a giant ego.
At least stifling my laughter helped keep me warm.
Posted by kuri at December 07, 2010 05:47 PM