January 14, 2010
Winter Summer Winter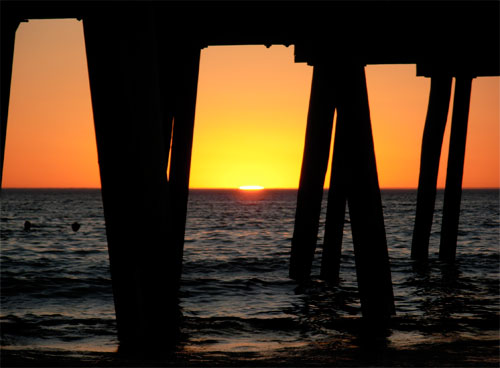 Sunset under the jetty at Henley Beach
Last week, Tod & I jetted out of winter and into an Australian summer.
Adelaide was blistering. For four days in a row, the temperature was over 41 degrees, kissing 43 on Sunday as we stood in a garden for Tracey & Ashley's final wedding. The heat is dry as a bone, sucking moisture from your eyes and skin with barely a shimmer of perspiration. I drank lots and lots of water but never felt fully hydrated. Air conditioned shops, hotel rooms, and pubs were crucial to keeping comfy, but they were dry, too.
On Saturday, Jo, Martine, Tod & I braved the outdoors starting with a lunchtime picnic under the banyan trees near the botanical gardens, then lazed around in the heat hooping a little and watching wedding photographers until scooting off for Greek dinner and sunset poi fun on Henley Beach.
When it finally started cooling off Monday night, the sidewalks radiated enough warmth to make arthritic joints happy. By Tuesday morning, it was raining and barely 22 degrees. I put on a jumper and shivered up in the Barossa before we hopped a flight to the Gold Coast and then back to winter.
What a shock to return to single-digit Tokyo. Now I am sitting at my desk dressed in layers with the windows open airing the musty smell from the house while the sun shines in our southern windows. I can barely remember the heat.
Posted by kuri at January 14, 2010 12:01 PM