August 20, 2008
36 Necklaces (for Free!)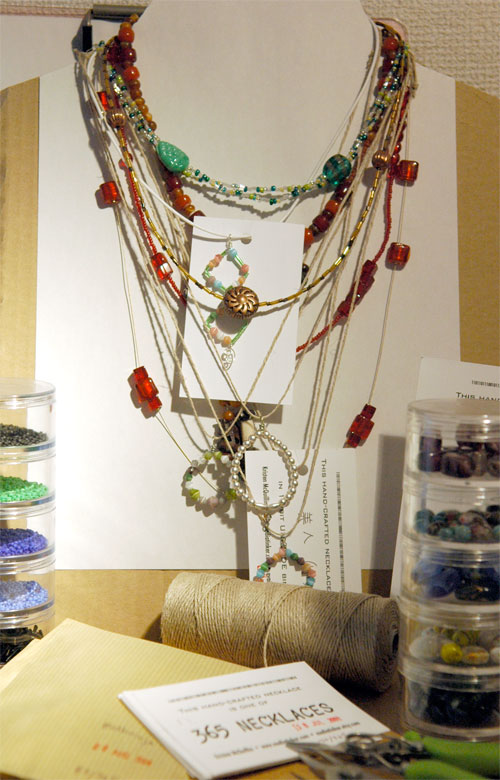 Waiting to go on Etsy
I am falling far behind in the 365 Necklaces project. If I had followed my one-a-day plan faithfully from March 18th, I should have amassed over 150 necklaces by now. But as of today, I am up to 83.
I will blame the inconvenience of putting things up on Etsy. I love my Etsy shop, don't get me wrong, but it is very easy to procrastinate the product photography, descriptions, pricing, tagging, and the rest. The necklaces pile up and seem impossible to get online.
So I am going to bypass Etsy to try to increase the tally more quickly. Free necklace to the first 36 people who comment. You can even choose your message or mathematical constant and your preferred color (though what you get depends upon what beads I have in stock). In your comment, please include:
1. Message or Mathematical Constant (no more than 10 characters, please)
2. Desired color
3. E-mail (so I can get your physical mail address)
Everyone welcome, so come out of the wordwork lurkers and RSS readers. No strings attached (except for the cord on the necklace) but I've been socking away the profit from my Etsy sales for charity. If you'd like to donate, please feel free to pass me some money via PayPal that I will add to my kitty, or you can donate directly to a charity you care about.
Posted by kuri at August 20, 2008 02:58 PM