April 12, 2008
Asakusabashi Bead Town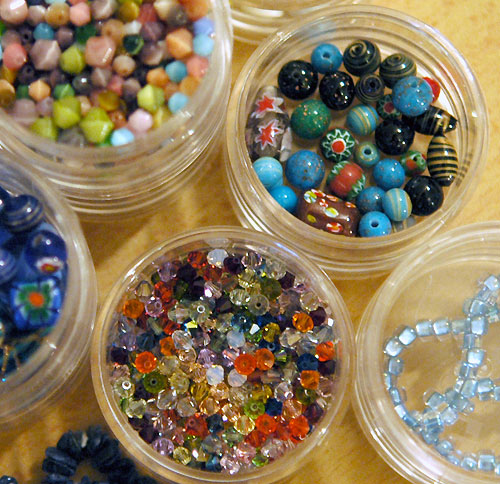 Some new members of my bead stash
If you want to buy beads in Tokyo, you must go to Asakusabashi. It's one stop east of Akihabara on the Sobu line. Where Akiba is all bright lights and electronics and men, Asakusabashi is low key shops with a decidedly feminine clientèle. There are dozens of shops, each one with a slightly different focus or catering to a different demographic: the older ladies, the kids, the fashionable hobbyists, the skilled bead masters. I encountered them all today.
Here is a shop list and map to guide you and here are highlights at the shops I visited this afternoon:
Choice specialises in stone beads. They have a very good selection at reasonable prices. There were some gemstones there I had never seen as beads before. It's all neatly arranged in row after row of racks by color.

West 5 seems to be the mecca of Toho beads and findings. They had some good sale items outside the shop (lots of shops had cheap beads out front).

Craft Family Hint has a large selection of buttons and ribbon trims as well as beads. I will definitely come back here for the ribbons - everyting from velvet to leather and all sorts of fringes, lace and embroidered ribbons, too.

Beads Shop J4 has a special section of Japanese style beads and parts. They also offer a 12-class lampwork bead course. The store feels a bit like an atelier with workspaces tucked into corners and behind screens. Upstairs they have an enormous amount of acrylic beads on strings.

Accessory Hyotanya focuses on "deco" parts. They have lots of shaped pins and brooches that you can glue rhinestones to. Of course they have rhinestones and glue, too. They also sell some beads.

Parts Club has lots of parts, or as we call them in English, findings. All the shops have them, but Parts Club is nicely organised. And very large. They also have scads of beads and tools.

Kiwa got most of my business today. They had the nickel silver wire I was looking for, the nippers I needed, and a good selection of cords, too. And do I need to say they have a lot of beads? They do. And nice ones but oddly enough, I didn't buy beads there.
In four hours, I hardly scratched the surface of Asakusabashi's bead shops. I didn't even make it to Beads Factory, which is Miyuki Glass Beads's showcase. Fortunately, Asakusabashi is within walking distance of home, or a few stops on the train, so I can go any time.
Must stop posting and start beading now.
Posted by kuri at April 12, 2008 04:59 PM