July 13, 2007
Handmade Envelopes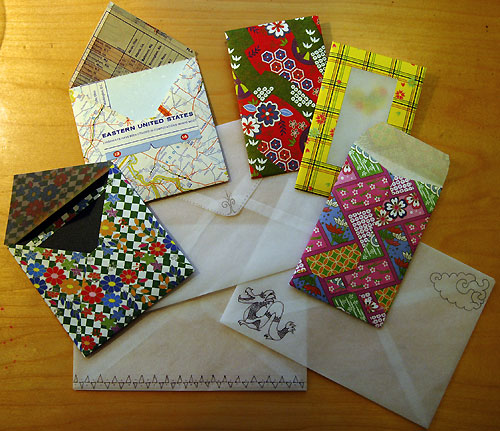 Handmade envelopes
Swap-bot members run crafty swaps that encourage me to try new things. Today I made some envelopes from origami paper, tracing paper, and an old map. I'd never done that before, but it's easy and fun. I like these especially because they are pretty and practical, too.
To make your own envelope:
Take an envelope you like, carefully rip it apart at the seams (or Google for "envelope template" for some that you can print out)
Use the old envelope as a template on some fresh paper
optional: Trace around the template
Cut out the envelope shape following the template or tracing
Fold up the new envelope
Glue the side and bottom flaps together
Decorate as desired
It really couldn't be easier and you end up with fun envelopes from your own stash of papers. It's not too late to join the Handmade Envelope swap if you want to give yourself an excuse to try making some.
Posted by kuri at July 13, 2007 07:05 PM