December 07, 2006
Whole Carrot Soup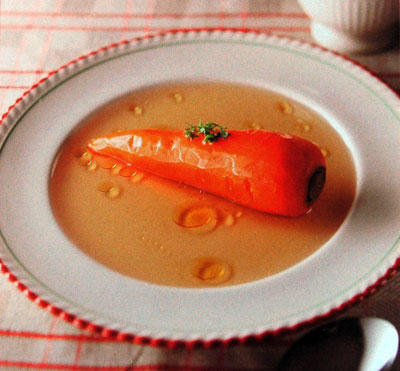 Whole Carrot Soup from "My Precious"
I can imagine this soup being served in a rural Japanese restaurant that was trying hard to serve posh Western dishes. It may be the strangest recipe I've come across this year. It's from a food gift catalog, opposite the page selling carrots and sesame oil.
Whole Carrot Soup
serves 2
2 carrots
1 packet consommé (bullion)
700 cc water
dash salt
dash black pepper
dash sesame oil
Peel the carrot. Add to a pot with the water and consommé. Simmer over medium heat until done. Season with salt and pepper. Sprinkle sesame oil over each serving.

Posted by kuri at December 07, 2006 11:18 AM