October 25, 2006
Mock Wrap Skirt
For our upcoming trip to India, I wanted a lightweight, appropriately modest skirt that would be comfortable to walk in and also easy to pack and hand-wash in hotel sinks. I came up with this straight line, mock wrap skirt in linen.
It has a separate elastic waistband that allows the panels of the skirt to be s-folded to form the wrap before the waistband is applied. I'm sure this is standard technique, but I've never tried it before. Works like a charm, I must say.
The whole thing is made of rectangles, so you only need to do some measuring and cutting. I wrote up an illustrated pattern with instructions, which you can download for free. The pattern includes the measurements for cutting, a list of materials, and a larger version of the image below.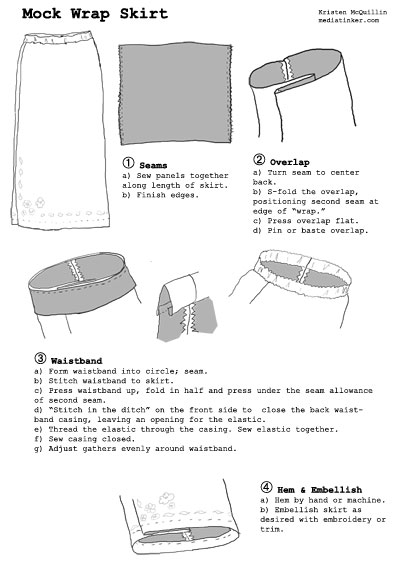 Mock Wrap Skirt Pattern 492 KB PDF
Please don't resell this pattern or pass it off as your own work because I will get annoyed when I find out.
Posted by kuri at October 25, 2006 02:02 PM