November 11, 2005
Sketchcrawl - Sat Nov 19

Borrowing an idea from Danny Gregory at Everyday Matters, I'm planning a sketchcrawl in Tokyo. Come draw in the field and meet other people who like to do the same.
Let's meet on Saturday, November 19th at noon at Kinokuniya Bookstore (out side the ground floor entrance) in Shinjuku.
We'll wander around Shinjuku, get in the way of holiday shoppers, and spend 45 minutes or so at three or four locations to draw what's around us. If the weather is too cold, we'll move indoors—goodness knows there are lots of places to get a coffee in Shinjuku—and sketch what we see out the windows.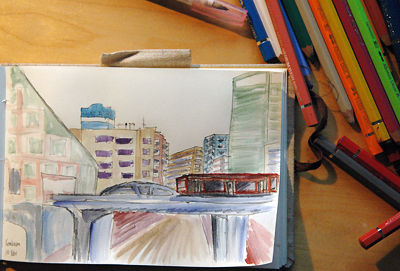 A recent outdoor drawing
The sketchcrawl is open to everyone. No experience required.
As Danny said in his invitation to his sketchcrawl in NYC, "I would urge you to bring something to draw on and with and a little folding money to purchase hot libations along the way." Good advice!
Hope to see you next Saturday. Feel free to e-mail me if you have questions or want more information.
Posted by kuri at November 11, 2005 08:33 PM