September 27, 2005
Yasukuni War Cry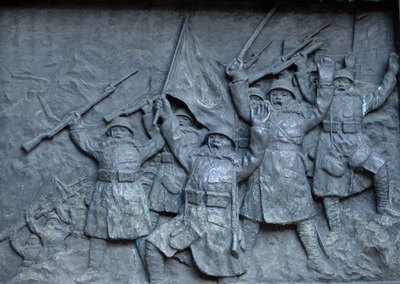 Victory or agony? It's hard to tell.
I've been to the controversial Yasukuni Shrine a few times. This is where Koizumi gets in trouble for paying official visits because it enshrines the war dead—heros and Class A criminals alike.
Walking through it on Sunday evening, my eye fell on the large stone lanterns that flank the entrance. On each side of the hexagonal base is a bronze scultpure with a war scene from land or sea.
You can see all six of the brozes and the lantern they are attached to, in my Yasukuni Flickr set
Posted by kuri at September 27, 2005 11:33 AM