September 14, 2005
New Foodie Book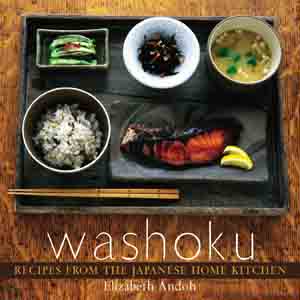 I had the honor of paging through the only printed copy of my friend Elizabeth's new book this week. It's gorgeous, though she worries it is too heavy. I disagree; the book has a good heft.
But better than weight, it has recipes! From fish to desserts, there are fabulous Japanese dishes to cook, a richly illustrated "pantry" section, and lots of tips and kitchen techniques. It really is a marvel. I've eaten with Elizabeth many times and she is a master chef, even when we're just having a casual lunch while computer troubleshooting.
Washoku, Recipes from the Japanese Home Kitchen is due in bookstores next month and available for preorder from Tenspeed Press, and at Amazon.
Elizabeth talked with me about the book, along with one of my favorite topics, Japanese pickles, in my recent Hanashi Station show, Japanese Kitchen. (12.1 MB MP3)
Have a listen and order the book (unless you're on my Christmas list, in which case…surprise! You're getting a cookbook this year!). Elizabeth has a US book tour lined up, so check her calendar at Taste of Culture and see if she's going to be in your area soon.
Posted by kuri at September 14, 2005 06:55 PM