July 10, 2005
Chasing Nushu
Today we learned all about Nushu from various sources. I've updated Wikipedia's Nushu article with some of the information we learned on our journey, but the impressions of the old women telling us about their lives just doesn't fit into the encyclopedic format.

Weaving the traditional way. Photo by Jon.
These were remarkable women gathered at Nushu Garden, a local center for preserving the writing. A nearly toothless 80 year old, Ni Youju, told us that she had been engaged at age one, and married at 16. Her husband was still alive and she described him as a good man who didn't drink, smoke or gamble. (Jon blanched…) She learned Nushu by listening to the privileged women singing the songs, and figured out how to weave the patterns they used, but never learned to write or read it. She sang local songs in a strong voice as she worked on a belt weaving that incorporated some Nushu characters in the design.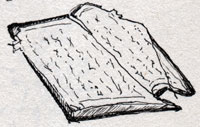 Before we left Nushu Garden, Miss Zhou presented each of us with a scroll she had written in Nushu. Jon's was a Li Bai poem about a waterfall; Lisa's was a wish for a happy future. Mine was supposed to say "A beautiful woman will always be appreciated by men" but Miss Zhou made a mistake as she worked with the brush and started over with a new scroll and a new saying. So mine is a hope that by sharing Nushu, all women of the world will become sisters.
We headed down a very rutted road to a densely packed village called Xiawan. The world's most accomplished Nushu teacher, Hu Meiyue, lives here. It is the most beautiful town in the world.
It is a maze of narrow cobbled alleyways between two story red brick buildings that have stood for nearly three centuries. The houses are solidly built and most have ornately carved wooden windows and doors, but the town has fallen on hard times and everything is a bit derelict. The old temple is littered with manure; the Cultural Revolution-era hall is a garage for farm equipment.
The center of the town is a big, green pond. It's the only place where you can see the unobstructed sky. Gates on two sides of the pond lead off to the temple and houses. One thing the village lacks entirely is commerce; there are no shops or stores in evidence. People in the village walk or bike to the nearest town.
Jon interviewed Mrs. Hu, who read from her great-grandmother's Nushu book, and after a quick stop back in Jiang Yong to see Zhou Shuoyi, who compiled the first Nushu dictionary, we were on our way to Yang Shuo.
On the way we stopped for a swim in a river. Yeah! Some water buffaloes were curious about our pile of discarded clothing, but I rescued our stuff before mama-buffalo could eat my skirt.
Another family of buffaloes swam across the river as Jon & I played race games with an unripe quince. He later chucked it at Lisa, sitting on the bank, and caused her to fall in. We were back in the car shortly after that.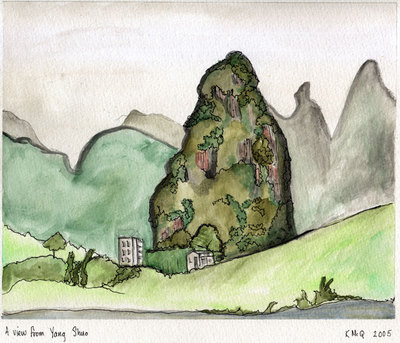 Across the river at Yang Shuo (cilck for larger view)
Yang Shuo is a tourist town popular with Western travellers. It has a nightlife/market/cheap hotel district just like Khao San Road in Bangkok. If the scenery in the area were not so terribly beautiful, I'd vow to never go again.
Posted by kuri at July 10, 2005 05:26 PM