July 02, 2005
Value: $20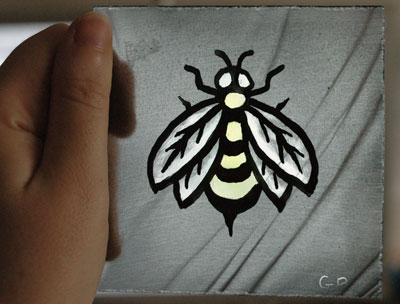 My lower lip trembled as I peeled back the tape on the packaging. The customs declaration said "painted glass coaster. Value: $20"
By the time I had revealed the contents, a bee-painted tile that I admired in Dad's studio in March, my eyes were full of tears. I picked it carefully from its cushioning, held it in both hands, and sobbed.
Twenty dollars…plus a childhood's worth of memories, a lifetime of admiration, and a few moments of grown-up regrets. How infrequently we sum the true worth of the people we love. And we let them know even more seldom.
Mom, Tod, Jenn, Helen, Dan, Jean, John, Kris, Jeremy, MJ, Tracey, Jo, Jonathan, Sachiko, Jim, Yuka, Bob, Dave, and my myriad friends and relations: you're worth so much more than your declared value. I cherish you.
Posted by kuri at July 02, 2005 10:14 AM