June 01, 2005
Too big
Forget moderation. Portion control? Out the window. And now that 107 million American adults are overwieght or obese, furniture manuafacturers are touting new, wider seats for restaurants.
UPI published an article on May 23rd: Eatery furniture confirms obesity trend
Furniture makers are selling bigger chairs and tables to U.S. restaurants, an apparent accommodation to growing customers.

The National Restaurant Association's four-day conference in Chicago featured numerous displays of supersized furniture for supersized diners, the Dallas Morning News reported Monday.

Chili's has begun testing more spacious eating spaces and was looking at installing tables up to 12 inches larger at future Chili's outlets.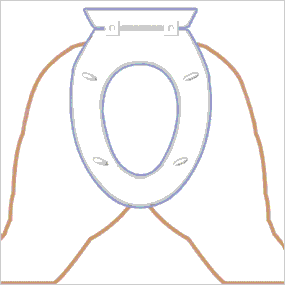 And at the other end of the process, there are also extra large toilet seats, Great John, winner of the Best New Bath Product 2004 at the Chicago Bath Show

The size of the average person has increased dramatically over the last century. Most toilets made today are manufactured from designs dating back to the early 1900´s. In the past, the pleadings of big and tall people went unanswered. For this reason GJTC engineers, medical doctors and artists took to the task of creating a NEW GENERATION of products satisfying the needs of today's customers. Our goal was to create the most comfortable and safe toilet for Large-Size people in the market. The other challenge was to make a toilet that could also be used by any size person. The final result was the creation of a "SIZE FRIENDLY TOILET"
Posted by kuri at June 01, 2005 08:07 AM