May 27, 2005
Call to Podcast

Remember the college radio station you listened to late at night? It was an odd mix of musical styles, on-air personalities and funny PSAs…and if you were more than 500 meters from the broadcast tower, you couldn't listen in.
A new project—an online radio station—is taking off and you are invited to play. Hanashi Station seeks people to produce their own online radio programs (podcasts).
Podcasts are downloadable MP3s that you can listen to on your computer or your MP3 player (named after iPods, podcasts actually have nothing to do with Apple or iPod).
Hanashi Station is scheduling 10-15 minute programs to air July through December. Have you ever wanted to have your own show? This is your chance.
Content must be related to Japan, but pretty much any format goes: talk, interviews, readings, environmental sounds, field reportage, news, rights-cleared music. Producers don't have to live in Japan to particiapte; from anywhere in the world you can do a program about any Japanese topic: anime, haiku, gardening, translation, or whatever you like.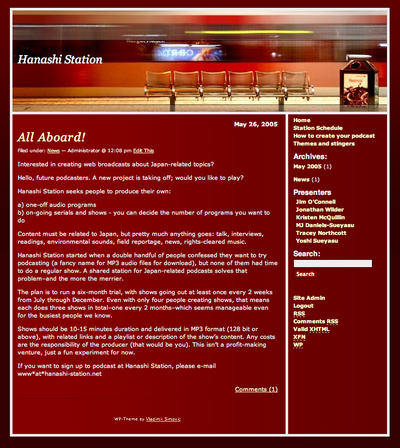 And it's all my idea. Over the last few months some friends have talked about doing podcasting, but nobody has enough time to do anything regularly. MJ, Jim, Tod & I combined forced to put this together.
Hanashi Station will run a six-month trial, with shows going out from July through December. The first announcement yesterday nearly filled up the starting slots, so it looks like there will be more show times added to the schedule.
If you want to podcast at Hanashi Station, please e-mail www at hanashi-station.net
Posted by kuri at May 27, 2005 09:23 AM