September 04, 2004
Japanese cemetery ad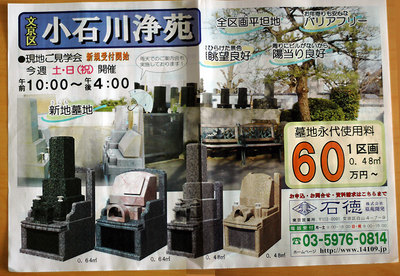 Usually our mailbox is stuffed with pizza menus, real estate ads and lists of porn videos, but the other day this appeared—a flyer for a nearby cemetery.
"Come tour Koishikawa Jo-En every weekend from 10 - 4. New plots available! Good views, good sunlight, no surrounding buildings, barrier free!"
A 0.48 sq meter plot with a permanent lease (I think that's what the kanji mean, please correct me if I'm wrong) is 600,000 yen at a minimum. To convert for my American readers, that's about 5 square feet for $5,000. Pricey real estate. Fortunately, they offer a 10-year payment plan.
If you want a monument like the ones shown, add at least a 1.18 million yen (about $11,000) to the price. Tax included.
Posted by kuri at September 04, 2004 11:21 AM