February 20, 2004
Journals

Do you keep a journal?
As a teenager, I kept a diary for six or seven years—full of the angst or exams and the trials of never having a date—that I wrote in frequently, if not daily. During the dormitory years at college, my diary transformed from lovelorn ramblings to costume sketches and reminders to go to class.
For years, I carried a sketchbook everywhere. That was fantastic. I paid a lot more attention to things around me. Any time I was bored I would grab my book and pen and draw whatever was handy. I did hundreds of little sketches. Some of them are horrible and others are quite good. I took notes in my sketchbooks, too.
But somehow, I stopped doing that. These days (in addition to this weblog) I keep a motley a variety of notebooks filled with to do lists, user interface designs, observations made on the train, grocery lists, meeting notes, and drawings. But I have too many of them. One in my bag, another in a jacket pocket, one on my desk…
So I declare today "starting the journal anew" day. I will keep a better journal. "Better" meaning I carry one with me everywhere and I use it creatively every day. Care to join me?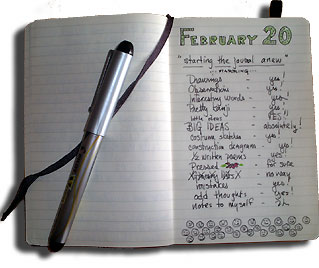 Drawings - yes!
Observations on trains - yes!
Interesting words and kanji - yes!
Little ideas - yes!
Bg ideas - absolutely!
Costume sketches - yes!
Construction diagrams - yes!
Half-written poems - yes!
Pressed flowers - for sure!
Grocery lists - no way.
Mistakes - yes!
Odd thoughts - yes!
Note to myself - yes!
Posted by kuri at February 20, 2004 09:49 AM