January 23, 2004
Loopy

Sometimes being bored is great for your creativity. When I'm bored, I doodle. I picked up a pen the other day and started doodling in a style I haven't done in about 20 years. If you were to peek into any of my school notebooks between 6th grade and graduation, you would find only the very briefest of notes and a lot of doodles like these:

I draw closed loops randomly then try to turn them into something. Often they are grotesque faces or people drawn with a minimum of frills.
Sometimes they are more elaborate creatures.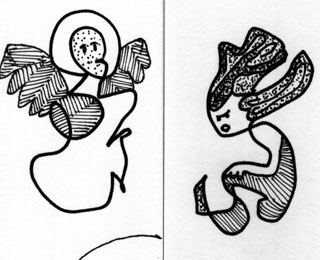 So to get your creativity going this week, here are two loops for you to play with. You can turn them any way you like, use them together to create a scene, or make two unrelated drawings with different rotations. Pretty much anything goes.

If you e-mail me yours by Thursday the 29th, I'll show them here next week, along with the ones Tod & I did from these loops.
Make some loops of your own, too! Just have fun and see where this takes you. It took me to good grades for six years—I think doodling during class put me into a state of relaxation that helped me absorb the lectures. Or something.
Posted by kuri at January 23, 2004 12:30 AM