November 14, 2003
You're Invited

Sometimes it's easier and more fun to be creative if there are other people involved. You can expand on one another's ideas—a creativity jam session.
So this week, I suggest that you plan a creative get-together. It doesn't have to be an elaborate event or a formal party, but invite some friends over to do something creative together. Cooking dinner, making music, writing a story, reading a play aloud, sculpting your poodle, designing a website. Something that a group of people can pitch in their ideas and end up with one final product.
If you're in Tokyo, please mark your calendar for my creative get-together.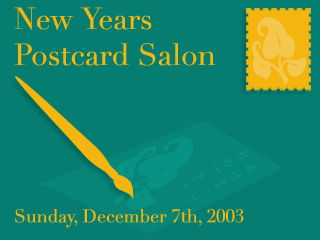 We'll make nengajo, New Year's cards, on Sunday, December 7th in the afternoon. I'll have postcard stock and lots of pens, paint, paper, glue and tidbits available. Afterwards, let's cook dinner together.
If you want to come along to play, e-mail me for more details. Plan to bring your favorite art supplies for making postcards, and/or an ingredient for dinner.
Posted by kuri at November 14, 2003 09:49 AM