September 21, 2003
Meet the washer
On Thursday, we got a new washing machine to replace our dryer.
Huh? New washing machine replaces old dryer? Yes! This Sanyo model AWD-A845Z, similar to the newly launched AWD-A860Z is a washer and dryer in one unit. You put the laundry in, press the course you want, and in 150 minutes, open the triple lids to reveal clean, dry clothes. It's really disconcerting. Call me old-fashioned, but things should come out of the washer wet.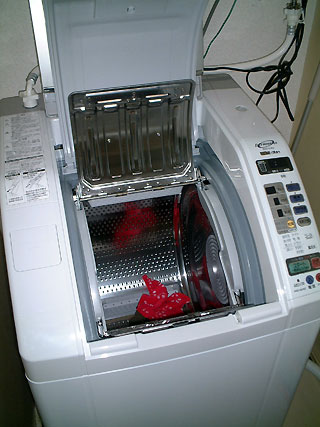 It has a "no detergent" setting that cleans lightly soiled clothes by electrolysis (but only lightly soiled clothes), a blanket course, quick wash, heavy soil cleaning, dry clean mode, and 8 ways to use the dryer (combinations of low and high heat and various times and auto-sensors). Plus it will recycle your bath water. But we'd need a very long hose to do that, since the washing machine is in our kitchen.
Last year's price: 228,000 yen. Now on sale for 110,000 yen. Good bargain for our building owner and a great new machine for us.
Posted by kuri at September 21, 2003 07:29 PM