May 24, 2003
More shopping video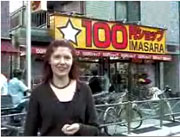 OK, it's back to tasks completed on the Hello Tokyo project. This week, I've added in those missing fruit and convenience store bits from the previous edition of Video Saturday and I've added short segments on department stores and my favorite goofy shopping venue—the 100 yen shop.
This is still a rough edit, but it is coming along. Next week, I'm aiming to have another segment slapped together—entertainment.
For this download, I'm trying out a different compression program and format. Please tell me if you have any trouble with this MPEG-4 file.

Shopping. 3'30" (5.3 MB MP4)
Posted by kuri at May 24, 2003 10:41 AM